About
Best Montreal photographer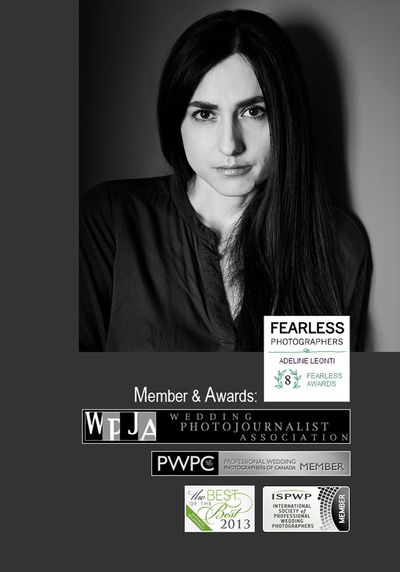 People already asked me: why are you photographing weddings? What is so special about them?
What I love about a wedding is the richness of the day; from laughing to crying, melancholy to happiness and pure joy. I'm a privileged witness of all kinds of intense emotions and as a human being I'm touched, as a photographer, I strongly believe those moments are precious and important to catch in time.
I easily get attached to your story :) because I love life stories in all their diversity. Photographing a wedding is for me a unique experience and process. I never go to a wedding with a preconceived idea of what I should do or photograph. Each wedding is unique to you, related to your story, your families and as a documentary photographer I focus on people, on capturing the Moment, the essence of your unique, real story.
I became a photographer in interesting circumstances. During my journalism studies I decided to extend my skills on approaching press photography in order to better understand my colleagues photojournalists work. After a few workshops and specialized training in photojournalism, it occurred that I would abandon the pen in favour of the camera to tell the stories I worked on. Avant Garde Studio came into existence as a natural result of my learning process.
My approach to photograph a wedding is the same as I would cover any other real life events happening. I don't want to interfere with your wedding day. I want you to enjoy each of the moments of your so anticipated and expected special day.
Who knows me well would say I like to socialize a bit too much sometimes :) Well yes I love people and I want to know about their stories. However, when I'm photographing a wedding, a birth or I work on a documentary project, I want to be discreet, invisible. Things are happening… I witness them and my goal is to observe, anticipate and capture those little and big moments you will cherish forever.
A wedding celebrates the love and the commitment of two people. Being part of your special day is a privilege and I strongly believe that my only reason to be part of is to follow and document naturally, honestly the flow of your intimate, unique and personal narrative.
If my documentary photography approach speaks to you, I would be delighted to get it touch with you! Adeline